Workshop Circle, with the Project Gallery on the mezzanine level and the new environment for Paik's "TV Garden (1974)" at the background
Nam June Paik Art Center Renovation
Nam June Paik Art Center, Yong-In, Korea
Gyunggi Cultural Foundation
Museum/Gallery, Cultural, Institution, Public Space
Nahyun Hwang, David Eugin Moon, Justin Kollar, Claire Hacko
aLab Architecture (local architect of record)
2018 AIANY Design Honor Award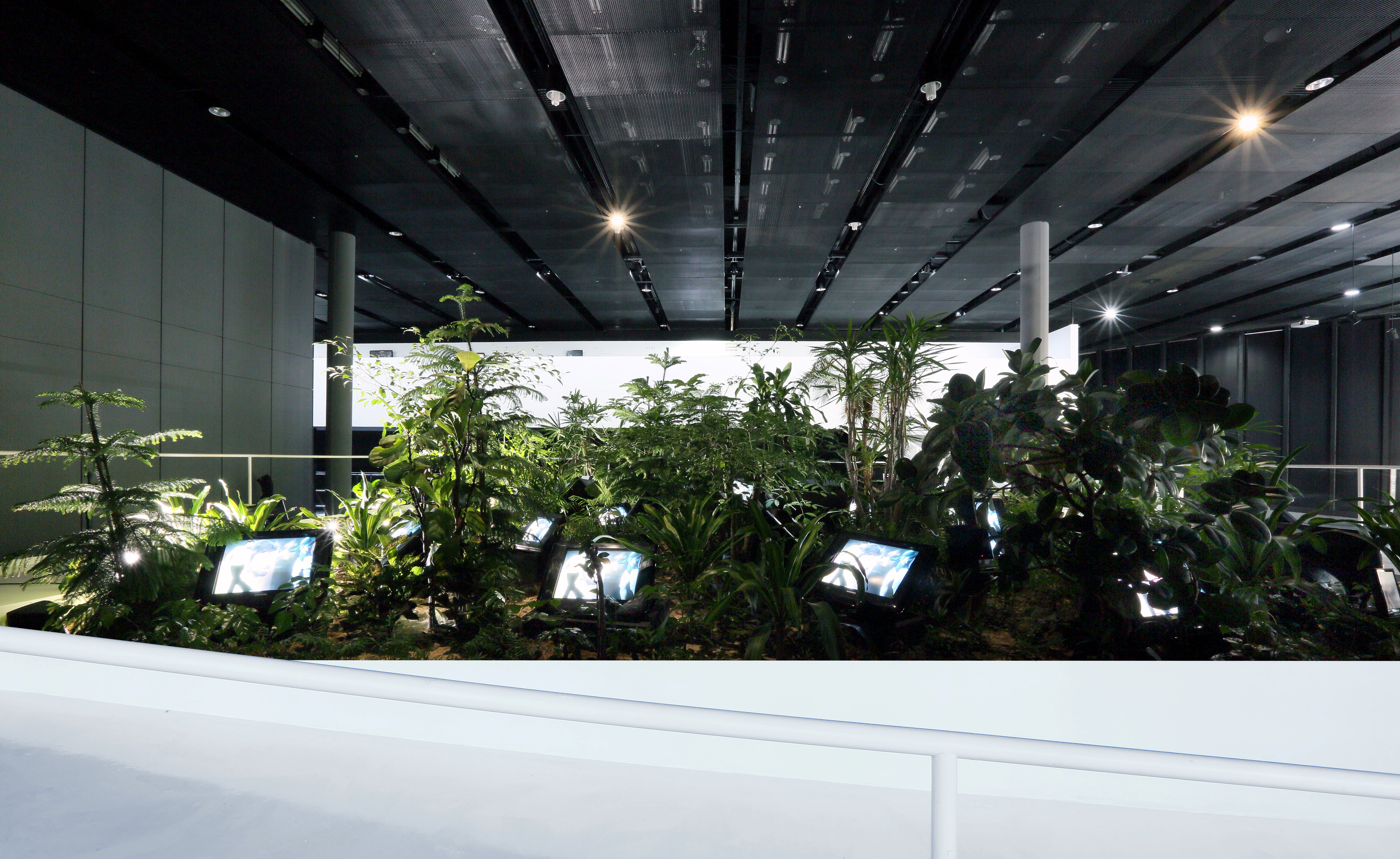 New environment for Paik's "TV GARDEN (1974)"

Nam June Paik Art Center renovation project reconfigures about 12,000 sf of the existing museum (more than one third of publicly accessible area) and provides the public with new ways to interpret, linger, exchange, and inhabit the institution. Symptomatic of large budget public cultural institutions erected in a rush under various political pressures, the vast shell devoid of interior articulation provides unusual opportunity to explore the idea of "building in building" and "figure in figure" and test the typological approach to appropriate the sites of institutional and bureaucratic conventions for more flexible and transformative public use.

"Open Ground," the new entry floor of the museum is designed around three large-scale programmatic zones - WORKSHOP circle, floating PROJECT GALLERY, and the new environment for Paik's "TV GARDEN (1974)"- with a strong figural presence and spatial characteristics, and aims to promote extended duration and accentuate the unexpected and multifarious ways that the public interacts with the art and its stories. Combined with supplementary mobile elements, the three buildings within the building also frame additional user amenities.




Access to the mezzanine Project Gallery
1. TV GARDEN
2. WORKSHOP
3. PROJECT GALLERY (MEZZANINE LEVEL)
4. VISITOR SEATING
5. ADDITIONAL DISPLAY
6. INFO AND TICKET
7. VISITOR LOCKERS
8. TEMPORARY EXHIBITION
9. ACCESS TO 2ND FL FLUX NJP PLAYROOM
10. EXISTING BUILDING SHELL
User amenity area under the Project Gallery
View from the PROJECT GALLERY
Workshop Circle, Details
View from the TV garden entrance with three figures
Workshop Circle