Installation view at the 2019 Seoul Biennale of Architecture and Urbanism, Collective City, Cities Exhibit
Interim Urbanism: Youth, Dwelling, City




Research and Design, Exhibition

Graham Foundation for Advanced Studies in the Fine Arts, Seoul Biennale of Architecture and Urbanism



Youths represent a dynamic yet precarious section of today's populations. No longer belonging to safe spaces of childhood, but not yet, if ever, integrated into the expected paradigms of traditional family structures, a large portion of today's youth, while seemingly spontaneous in lifestyle choices and welcoming mobility, occupy the vulnerable spaces of the in-between and the prolonged interim. Engaging youth and their dwelling as conceptual cross-sections, the project investigates the multitudinous spaces that youths shape and inhabit as they intersect with sustained social, political, and economic uncertainties, inequalities, and emergent lifestyles.




Interim City, New York

(120 cm x 150 cm drawing)




Interim Urbanism: Youth, Dwelling, City - New York
(2019 Seoul Biennale of Architecture and Urbanism, Cities Exhibit)

As a part of a larger investigation "Interim Urbanism: Youth, Dwelling, City," the materials assembled for the 2019 Seoul Biennale of Architecture and Urbanism "Collective City" present selected critical instances and projections set forth around the historical and contemporary conditions of youth dwelling in New York City, U.S.A. Aiming to provoke the conversations around the possibilities of alternative dwelling frameworks, and engaging rich socio-political and demographic complexities of the metropolis of New York, the exhibition presents four sets of artifacts - Interim City, New York (120 cm x 150 cm, a composite drawing of historic and contemporary instances of the interim domestic spaces of youth), Architecture of Home (For Now) (100 cm x 200 cm, a taxonomic model of typological and formal excerpts from the existing spaces of youth, and an accompanying video clip), Five Proposals for Youth, Dwelling, City (58 cm x 102 cm each, a pentaptych of five new youth housing proposals located across New York City), and Interim Stories (a collection of video vignettes of research documents) - that tie together the past, the present, and the possible futures of youth, dwelling, and the city.




Metropolitan Sleepover
Mi Sueño Nuyorquino
Installation view at the 2019 Seoul Biennale of Architecture and Urbanism (Photo © 2019 Hyo Sook Chin)
Installation view at the 2019 Seoul Biennale of Architecture and Urbanism (Photo © 2019 Hyo Sook Chin)

Interim City, New York (120 cm x 150 cm drawing)

The composite drawing illustrates selected examples of the spaces of tentative domesticities - sometimes actively shaped by and at times violently forced upon the young adults of the city of New York - as an interconnected milieu. The drawing frames about twenty historic and contemporary instances from different eras and neighborhoods of New York, for example, the externalized kitchen of FOOD founded by Tina Girouard, Carol Goodden, and Gordon Matta Clark in the 70s, the instant "community" spaces in the contemporary WeLive floors, and various precarious dwelling circumstances of "detached" or "doubled- up" youth. The work aims to articulate the hidden yet critical continuities beyond the apparent disparity and disjuncture.



Architecture of Home (For Now) (100 cm x 200 cm model and an accompanying moving image)

The model presents the typological and formal excerpts of the architecture of the "Interim City" that define and facilitate the fluid yet at times precarious domestic realm of youth in New York City and an emergent notion of home.






Architecture of Home (For Now) (Photo © 2019 Hyo Sook Chin)




1. Castle Vigilantia (Bedford-Atlantic Armory Men's Shelter)
2. Door (NYC Subway Turnstile)
3. Covenant Interior (Air Mattress and a Chair In Covenant House)
4. We-life Building (Wall Street WeWork/WeLive Tower)
5. YMCA (The Christopher Youth Residence Entrance)
6. Staying With Uncle A.C.E. (NYC Subway Car Interior)
7. Homes Stacked (Bunk Bed)
8. Home Divisible (Temporary Partition Walls)
9. Temple (Lobby Of Ace Hotel)
10. Aviatic Interior (Jet set Seat-bed)
11. Home Under (Illegal Basement)
12. Home Adrift (Curtain And Loft)
13. Home Landscape (Christopher Street Pier)
14. Stoop (Apple Store Spiral Stairs)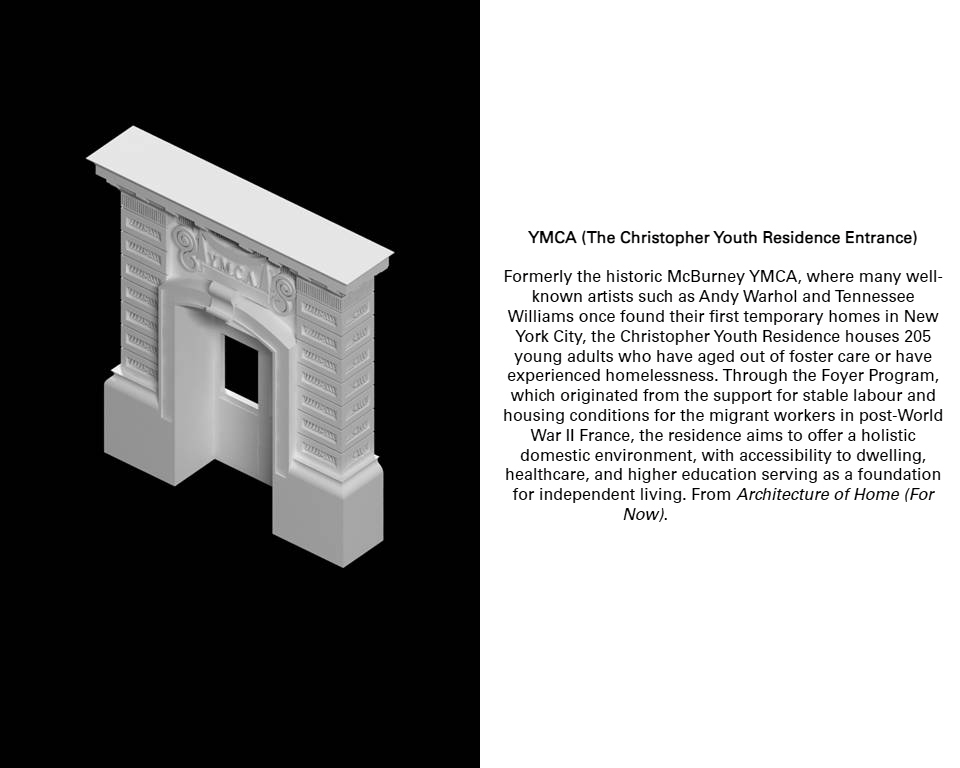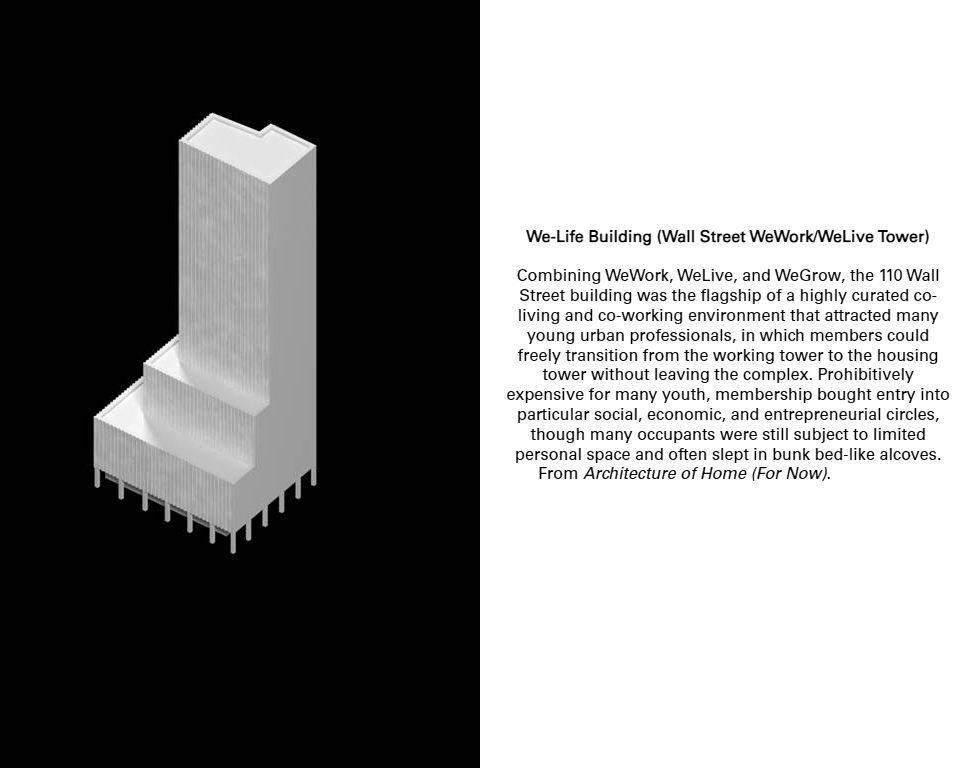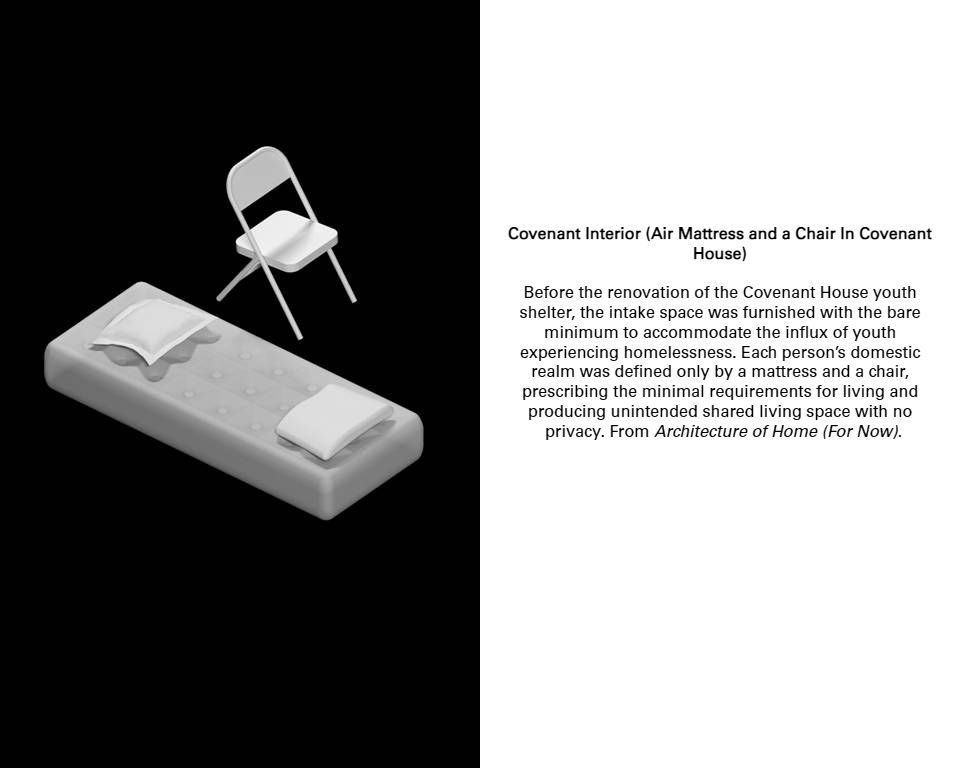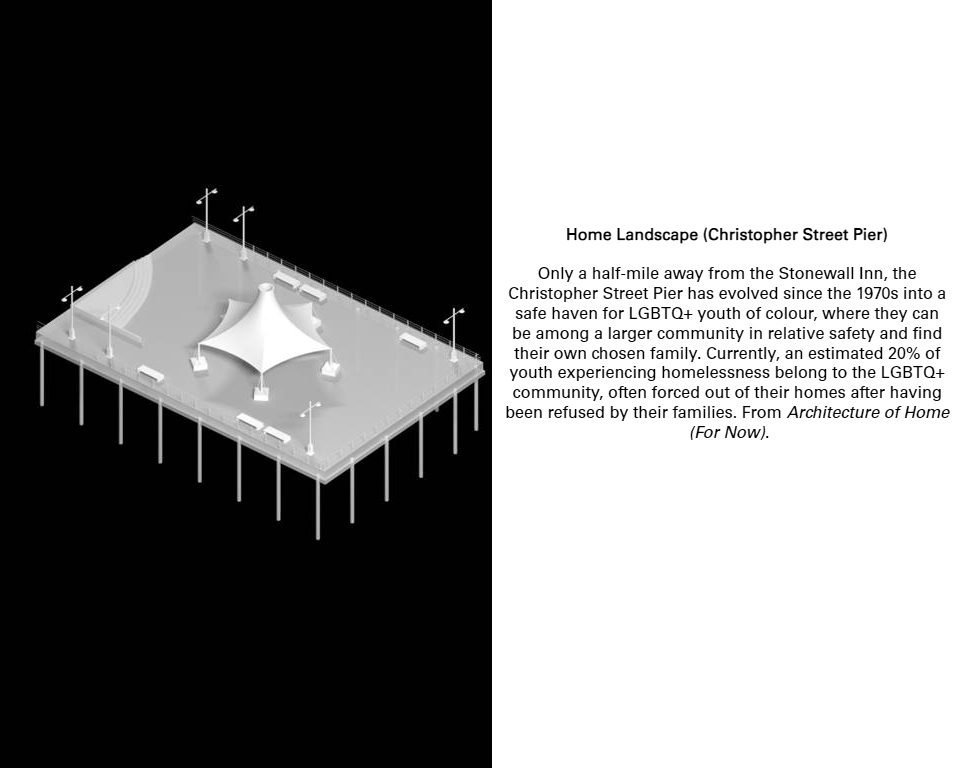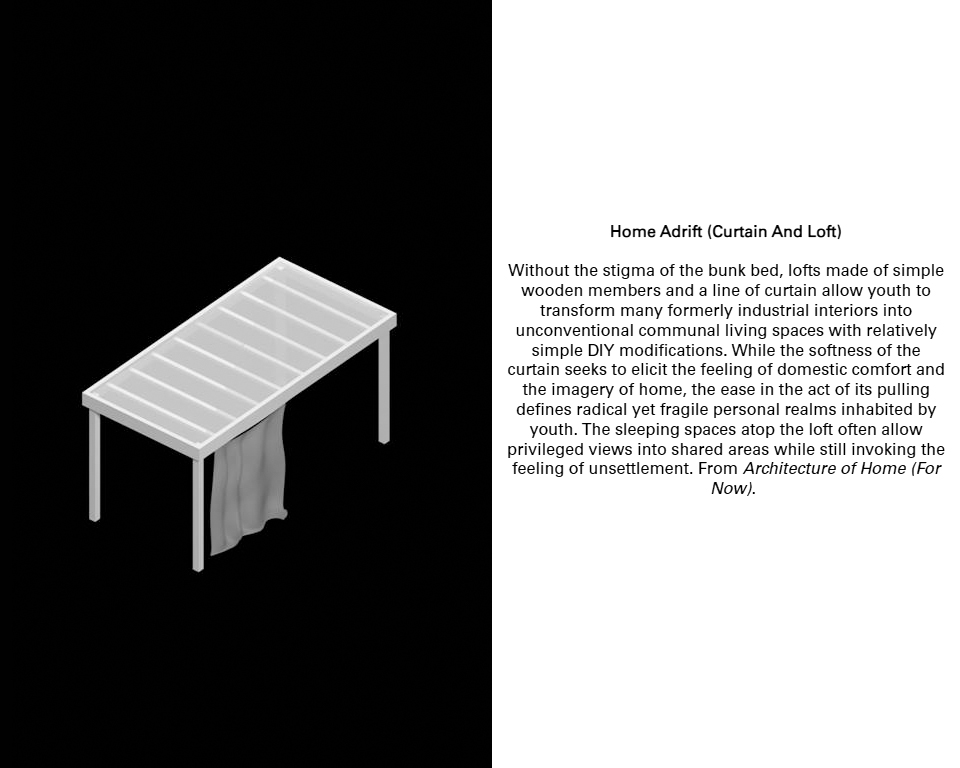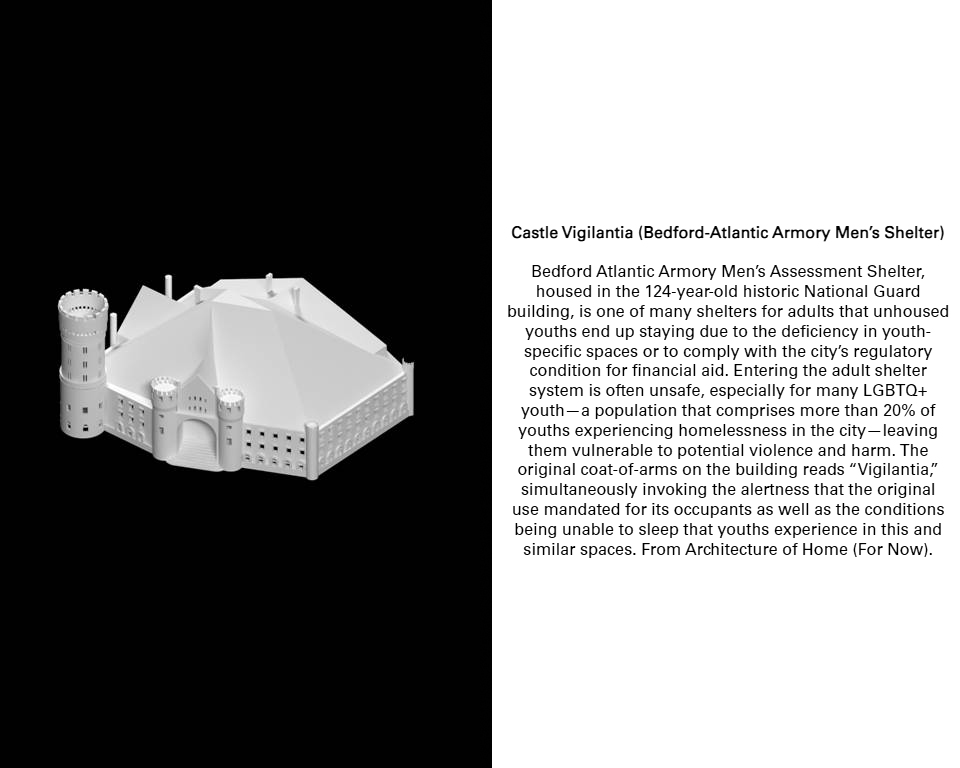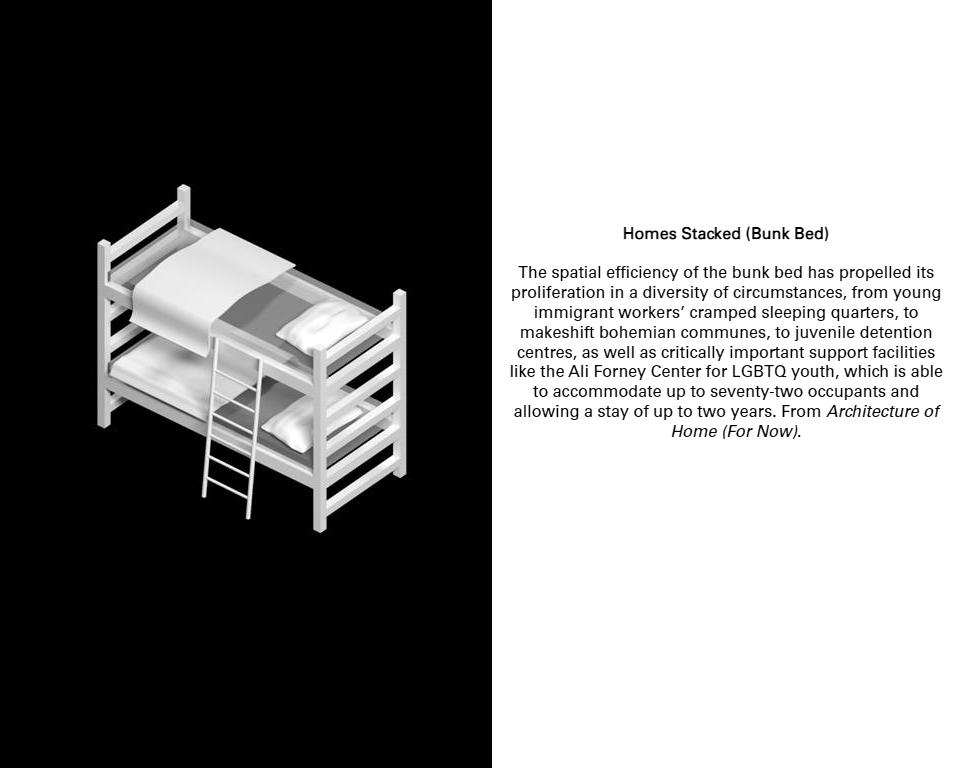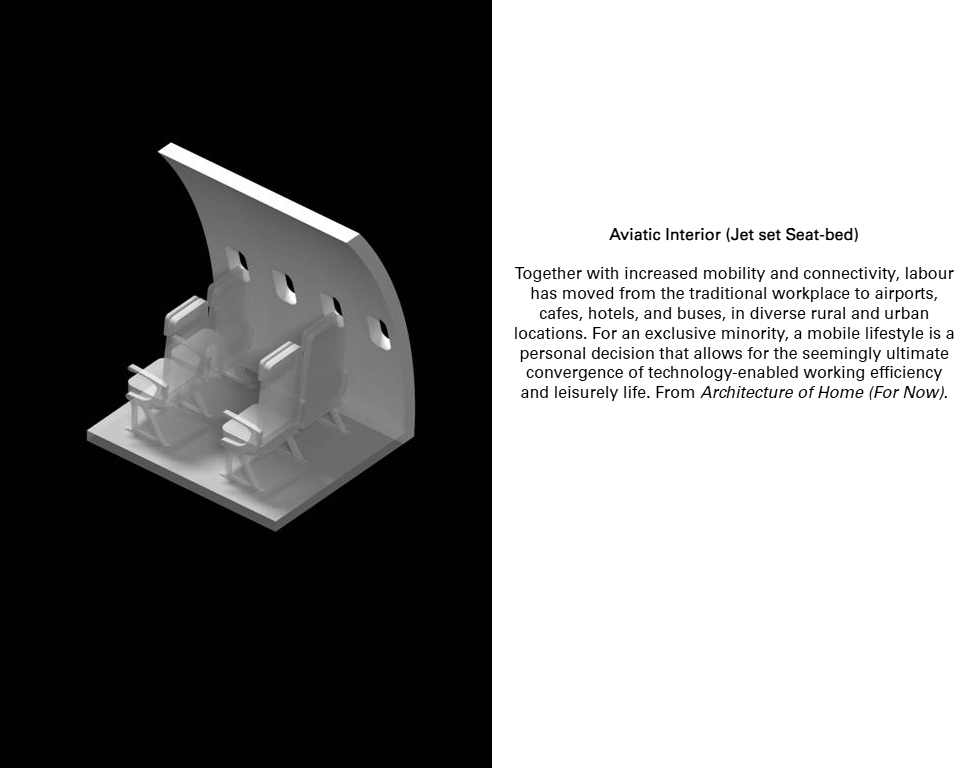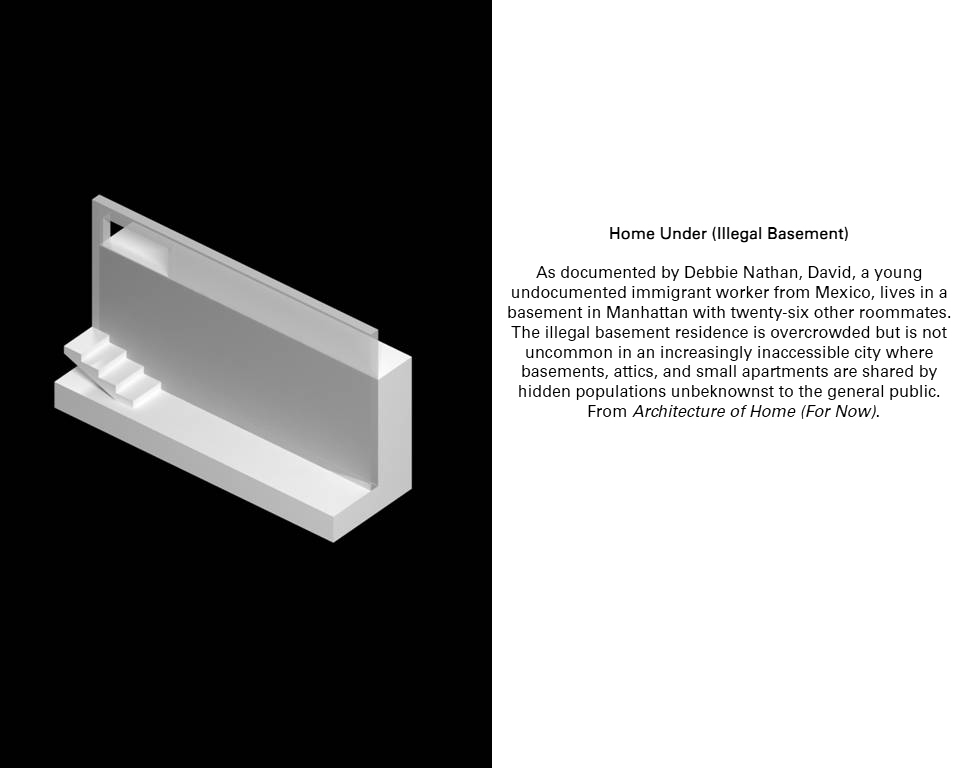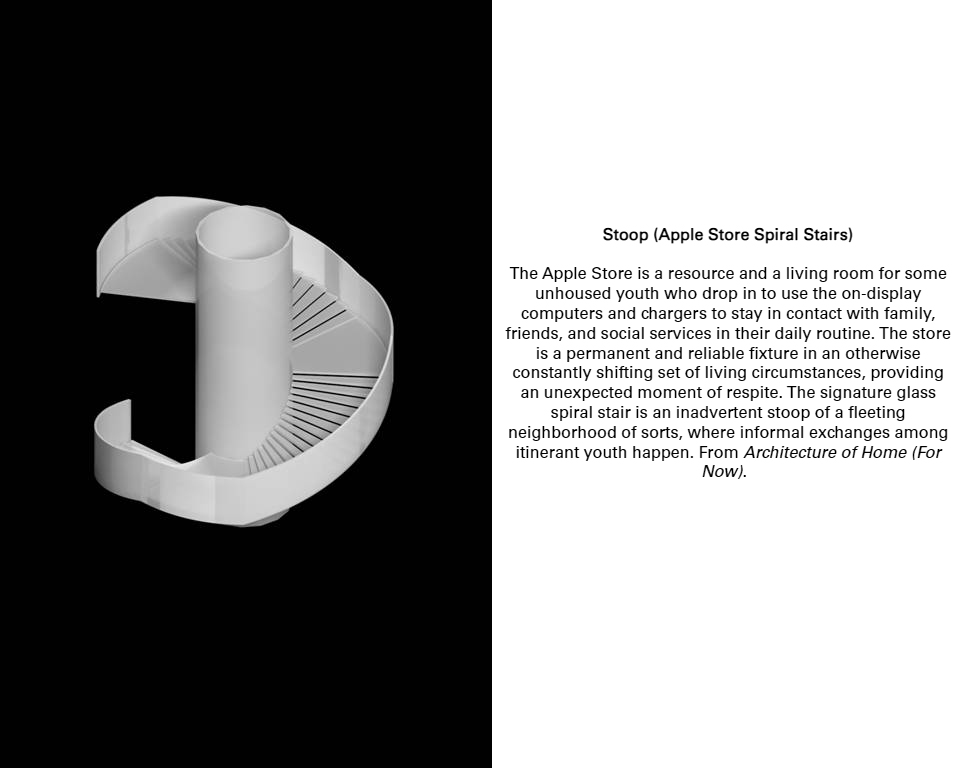 Five Proposals for Youth, Dwelling, City (Five 58 cm x 102 cm drawings)

Engaging drastically different socio-political and physical contexts, the propositions explore new programmatic and typological possibilities in collective living through five distinctive experimental dwelling prototypes for youth. Occupying the city-owned properties of stagnated or controversial developments, and producing five new forms of commons shared with the city in large, the projects investigate the implications and potentials in the fast-evolving notions of domesticity in the context of diminishing public realm, and explore the possibilities of architecture that frame more equitable sharing of resources and open collaboration in the context of increasingly fragmented collective spheres.

Midtown Social Club
integrates new youth housing units and their amenities with an existing senior housing and community center functions at the historic "Woodstock" Hotel, Times Square, Manhattan. Imagined to offer a model of new collaborative living in the middle of the city, the proposal combines intergenerational living and a variety of wellness, recreational, and entertainment facilities, as well as hostels functions for tourists and the residents' short-term guests in a tower form.
Calyer Living Lab
transforms a former factory-warehouse in Greenpoint, Brooklyn into a vertically organized "Learn/Live/Work," with protected dwelling zones for the youth residents and experimental fabrication/design labs and entrepreneurial spaces open to the neighborhood.
Town, Houses
utilizes abundant city-owned and vacant micro-plots around the city to construct a small scale youth co-living buildings combined with ground floor public amenities. Providing networks of small libraries, communal kitchens, community meeting rooms, daycare centers, etc. taken care of by the youth while accommodating them within the neighborhoods, the Real Estates reconsiders the current typologies of small scale residential buildings beyond their purely private development.

HQY
Reconfiguring a 560,000 sqft Department of Education warehouse building in Queens where Amazon planned its now-canceled headquarter HQ2, HQY is a new youth complex that combines a large number of youth housing and work units with a new public higher education institution. Envisioned as an open campus alternative to highly privatized educational enclaves, the waterfront facility combined with the adjacent wetland integrates the legacy of art and industry of the area as well as new environmental and educational initiatives.




Park Avenue Farmhouse
proposed for a development on an underutilized police parking lot in East Harlem, combines a micro-unit youth housing facility and an urban agriculture school, a supply and food market, and a community/teaching kitchen. Challenging the continued speculative vacancies that parallel the housing shortage, and supporting the legacy and future of community occupation of other vacant lots along the Park Avenue, the project imagines new spaces for youth that instigates new alliances and sustained stability for all.
Architecture of Home (For Now) - 9. Temple
Architecture of Home (For Now) Installation view ( Photo © 2019 Hahul Lee)
Architecture of Home (For Now) - 7. Homes Stacked


Architecture of Home (For Now) - 6. Staying With Uncle A.C.E.

Nahyun Hwang, David Eugin Moon, Jumanah Abbas, Fernanda Carlovich,Kyungmin Cho, Wendy Guan, Yining He, Xinning Hua, Stella Ioannidou, Justin Kollar, Frank Mandell, Eugene Ong, Kevin Hai Pham, Maxime St. Pierre Ostrander, Travis Tabak, Lu Xu
Matthew Brubaker, Hyung Rok Do, Andrew Keung, Hyunsong Lee, Sanggyu Shin, Charlie Hyoungjoo Yu